KnowBe4 is the world's leading integrated platform for IT and Cyber Security Awareness Training combined with simulated phishing attacks.
Cyber Security Awareness Training from KnowBe4 and Columbus UK helps businesses manage the challenge of social engineering. Your employees are frequently exposed to sophisticated social engineering attacks and this can be mitigated by training employees to spot phishing emails and recognise other areas of cyber security and IT related risk within your business.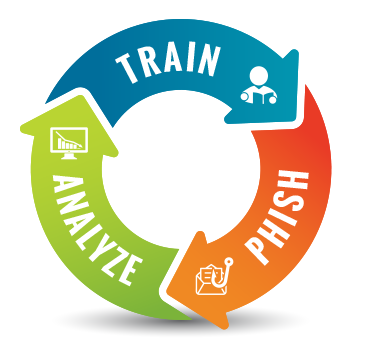 How our Cyber Security Awareness Training works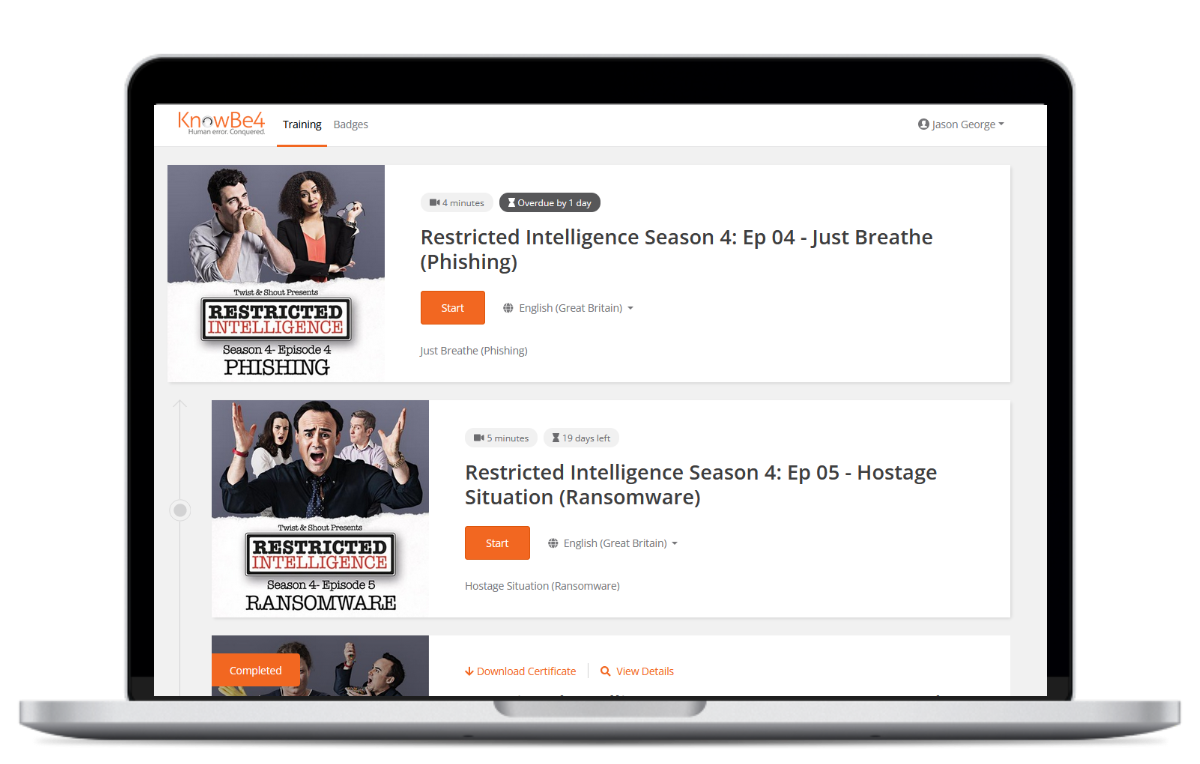 Did you know that:
of Cybersecurity issues traced to human error according to the 2022 World Economic Forum Global Risks Report.
of successful data breaches start with a spear phishing attack. Spear phishing is a social engineering attack in which a perpetrator, disguised as a trusted individual, tricks a target into clicking a link in a spoofed email, text message or instant message.
of phishing attacks typically make it through software filters. The most advanced Internet and email security software cannot capture everything, due to the way in which attacks evolve. Therefore, continual staff training is imperative.
The percentage of data breaches caused by repeat offenders. Risk accumulates over time when proper education and reporting do not occur.
Columbus UK provides KnowBe4 Cyber Security Awareness Training as a Managed Service. This means we provide ongoing professional consultation, guidance and advice, we set up phishing campaigns for you and provide monthly reporting so you can concentrate on core business activities knowing that a key area of business risk is being professionally managed.
95% of Cyber Security issues traced to human error
More than ever, employees are the weak link in an organisation's network security. They are frequently exposed to sophisticated phishing and ransomware attacks. Employees need to be trained and remain on their toes to the ever-evolving cyber threat landscape.
KnowBe4 Cyber Security Awareness Training enables users to make smarter security decisions by training them to understand the mechanisms of spam, phishing, spear phishing, malware, ransomware, and social engineering, and then apply this knowledge in their job. Simply put, KnowBe4 helps you build a human firewall as your last line of defence. This is recommended because between 10-15% of phishing attacks make it through your filters.
Proven Solution
In a study of more than 9 million users across nearly 30,000 organisations over a 12-month period, KnowBe4 found an initial baseline Phish-prone percentage of 27% across all industries. This means that nearly 1 in 3 employees was likely to click on a suspicious link or email or obey a fraudulent request. After only 90 days of training and simulated phishing, the Phish-prone percentage dropped over half to 13%, and after 12 months, it was minimised to only 2.17% – an astounding 94% improvement in one year after using the KnowBe4 platform. Source: 2021 KnowBe4 Phishing by Industry Benchmarking Report. Note: The initial Phish-Prone percentage is calculated based on all users evaluated. These users had not received any training with the KnowBe4 console prior to the evaluation.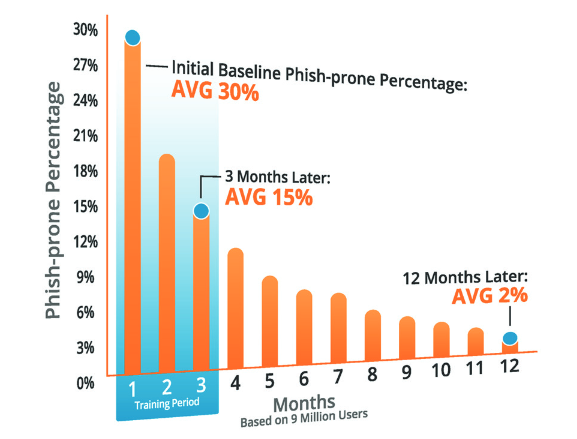 Forrester Wave Leader
KnowBe4 has been named a Leader in The Forrester Wave™: Security Awareness and Training Solutions, Q1 2022. Using a 30-criteria evaluation, the Forrester Wave report ranks 11 vendors in the security awareness and training market based on their current offering, strategy, and market presence. KnowBe4 received the highest scores possible in 16 of the 30 evaluation criteria, including breadth of content coverage, security culture measurement, and customer support and success.
As the provider of the world's largest security awareness training platform, being named a leader in this industry benchmark report highlights Knowbe4's success in their ability to enable organisations and their users to make smarter security decisions, improve security culture and mitigate risk using world-class training and simulated phishing.
Forrester Research also assessed the performance of the KnowBe4 platform in their Total Economic Impact (TEI™) Study and found a 127% return-on-investment with a one-month payback.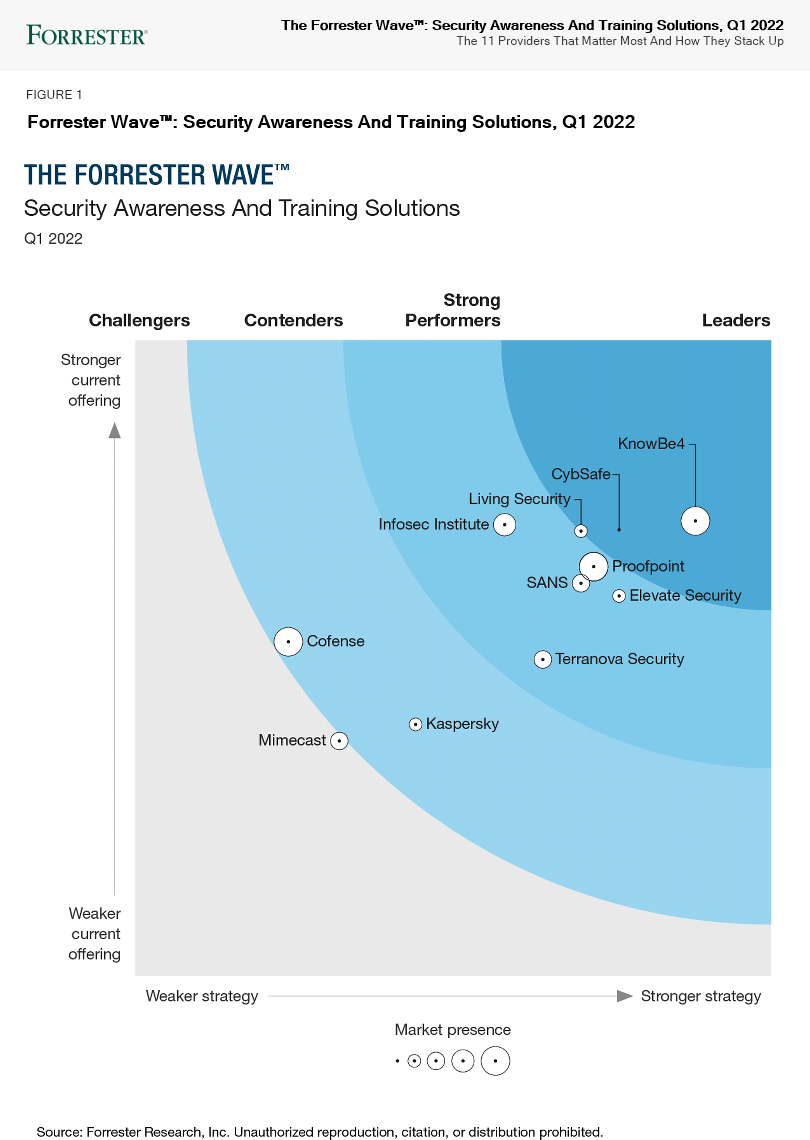 G2 Grid Ranked #1
The latest G2 Grid Report compares Security Awareness Training vendors based on user reviews, customer satisfaction, popularity and market presence. Based on over 695 G2 customer reviews, KnowBe4 is the top ranked security awareness training platform with 99% of users rating 4 or 5 stars, 95% customer recommendation rating, 92% ease of use score, 96% quality of support, and the largest market presence among all vendors.
KnowBe4 enables thousands of organisations and their users to make smarter security decisions on a daily basis. Using world-class training and simulated phishing KnowBe4 helps customers to improve their security posture, mitigate risk, and manage the ongoing problem of social engineering.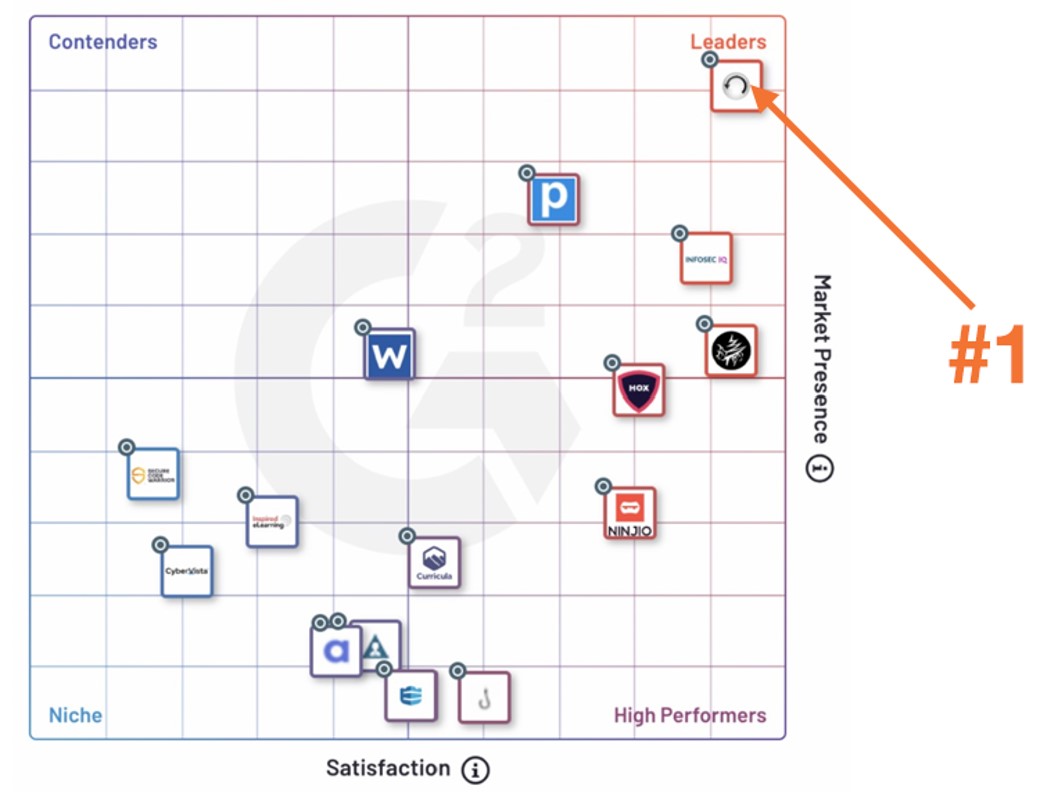 Need more info? Check out our most frequently asked questions.
Why is KnowBe4's training different?
Traditional Security Awareness Training is static. It's a one-time event with no follow-up. KnowBe4's Cyber Security Awareness Training starts with a baseline test to show how phish prone your users are. Then it steps users through effective, interactive and on-demand browser-based training. As step three, you send frequent simulated phishing attacks to your employees to reinforce the training. This last feature really creates a change in user behaviour.
Why do employees need security awareness training?
Cybercrime is moving at light speed. A few years ago identity theft was common, but now cyber threat actors can take over an organisation's network, hack into bank accounts and cause untold finanancial and reputational damage. Every organisation, whatever the size is at risk. Therefore continuous security awareness training is key to ensure your employees avoid common and emerging cyber threats.
Is Knowbe4 suitable for businesses of all sizes?
Yes, Knowbe4 security awareness training is suitable for all businesses, regardless of size and number of employees. Whether you are a sole trader, micro business, small to medium-sized business or entreprise, Knowbe4 provides exceptional value at all levels. KnowBe4 was built 100% in the cloud and is infinitely scalable. Our Learning Management System and courseware live in Amazon's Web Services cloud, and is ready for one to hundreds of thousands of users at a flick of a switch.
How is our data secured on your systems?
We use Amazon's Web Services (AWS) to host our servers and data, they are a fully compliant and ISO certified facility. There is no unauthorised external access to data, we only store what we need to deliver the services we provide, which minimally are email addresses with recorded clicks. Email addresses are encrypted, kept private and are not shared.