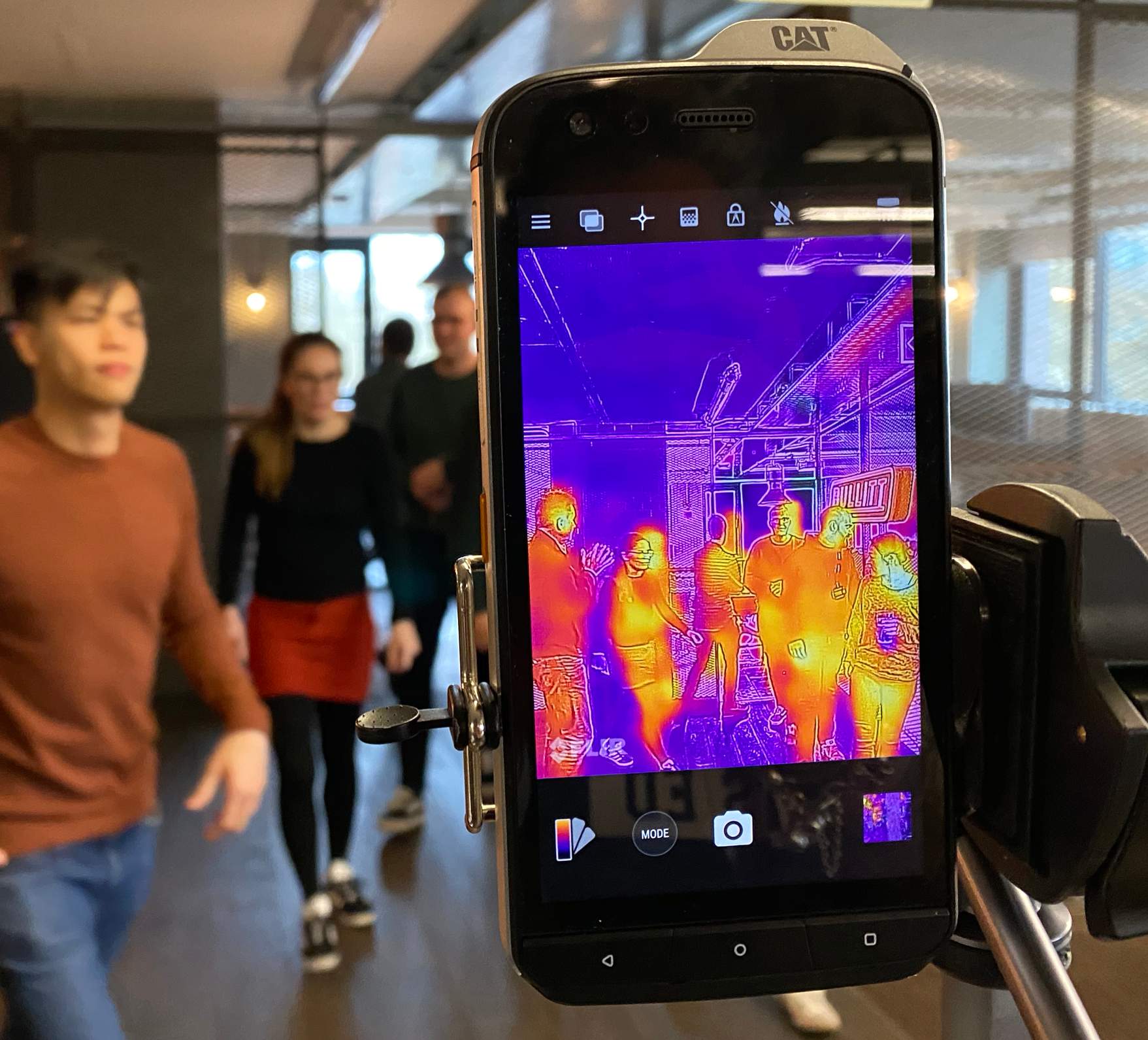 Cat S61 Smartphone with integrated FLIR thermal imaging system provides role in elevated skin temperature screening.
The COVID-19 pandemic has led to extraordinary times. Governments across the globe are in the midst of monitoring  the impact of the gradual easing of lockdown restrictions. Whilst effective contact tracing will be key to help prevent the spread of further COVID-19 infections and target potential clusters which could spark new outbreaks, other mitigation measures will be high on government healthcare agendas including continued social distancing, improved hygiene and temperature checking. More businesses including hospitality, retail, logistics and manufacturing are using EST (elevated skin temperature) detection as part of their programs to protect staff and customers during the COVID-19 pandemic.  Columbus UK provides business mobile devices from all the major global manufacturers, but one device that has caught our attention recently is the Cat S61 Smartphone with integrated FLIR thermal imaging technology. We are starting to see an increase in the sale of thermal imaging systems integrated into smartphones to help a wide range of business sectors support return to work policies as lockdown restrictions begin to ease.
Temperature screening smartphones for a safer return to work, leisure and life.
Infectious and communicable medical conditions, including Covid-19, are easily spread where people congregate. But it can be tough to identify people exhibiting symptoms that cannot be seen, particularly fever. The Cat S60, and its successor, the Cat S61 Smartphone are the first mobile devices with integrated thermal imaging cameras. All physical things, including people, radiate infrared energy. This can be detected by a thermal camera, with different surface temperatures visualised and represented as different colours on a display. The technology requires no natural light and does not require physical contact with the target to read temperature. This makes thermal imaging an ideal technology for initial screening of groups or lines of people as they pass by a camera, as elevated skin temperatures that could be the result of a fever will show up clearly as a contrasting colour on the display. This allows for individuals exhibiting elevated temperatures to be quickly identified without interaction.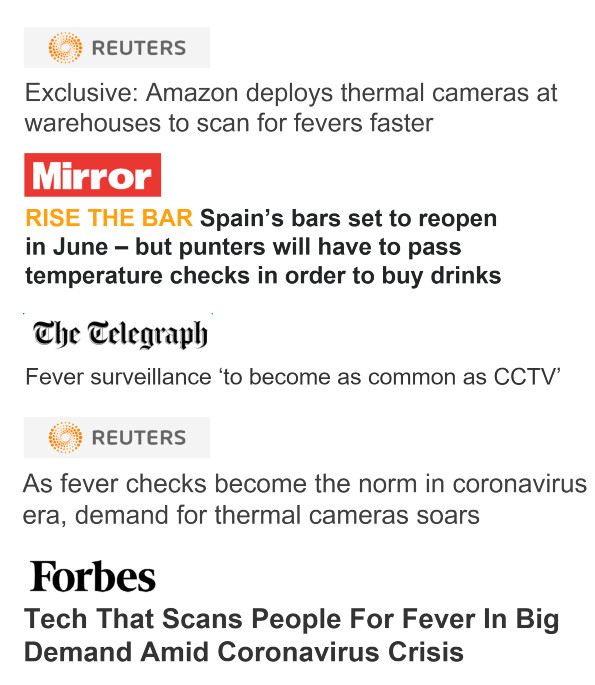 How does it work?
All physical things, including people, radiate infrared energy which can be detected by a thermal camera.
Thermal imaging cameras are very good at identifying anomalies in temperature.
The initial screening can be done at the Government advised safe distance of 2 metres.
The Cat S61 is effective as a first stage / adjunctive screening device to detect Elevated Skin Temperature (EST) as tested independently by the National Physical Laboratory.
When using the cameras for EST detection, it is the relative temperature that is important and not the absolute temperature.
The relative temperature is the difference between two data points, a normal skin temperature and the individual being screened.
The device is able to identify temperatures with a sensitivity of 0.1 Degrees Centigrade.
Please note: there are many reasons why a person may have an elevated skin temperature. No thermal imaging camera can diagnose COVID-19 and the S61 is not a medical instrument.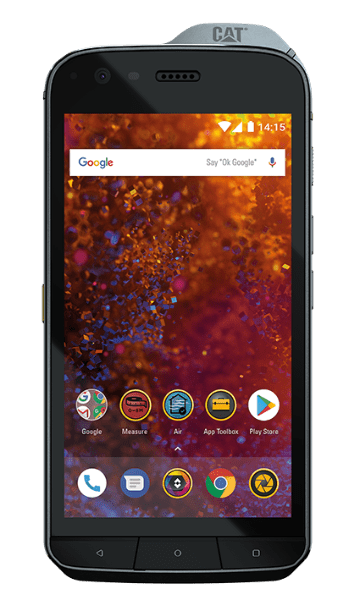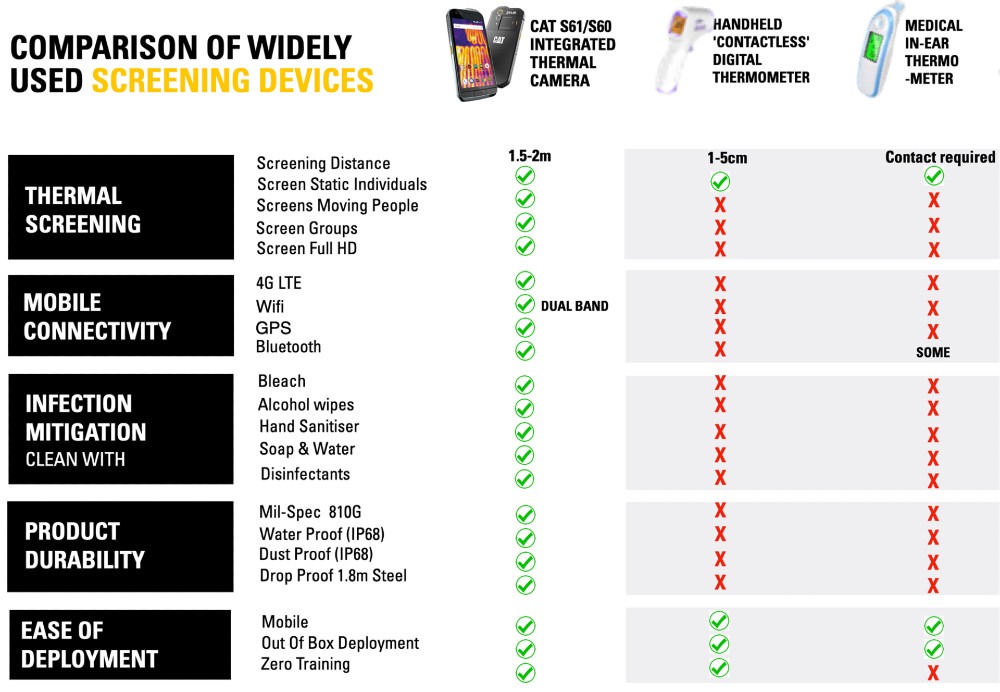 A smartphone ideal for increased hygiene needs
The Cat S61 Smartphone is built to withstand regular scrubbing and exposure to chemicals, bleaches and detergents. They can be easily cleaned and disinfected and can be fully submerged in hot water with soaps, detergents or even bleach. Because of the military grade specification of the device, the S61 does not need an additional case that could store germs. All Cat S61 devices undergo thorough hygiene testing which includes:
Bleach wipe test with 3000 cycles
Alcohol abrasion test with applied pressure for 100 cycles
Real world chemical susceptibility test at 60 degrees and 95% humidity for 2 days
Alkaline test for 2 days
Thermal Imaging tested to the highest standards
Cat S61 mobile phone thermal imagers have received a UKAS accredited calibration, fully traceable to national standards, with quantified measurement uncertainties and in accordance with ISO 17025 from the National Physical Laboratory (NPL), the UK's national metrology institute. NPL's temperature group maintains and disseminates the international temperature scale (ITS-90) for the UK and has world leading facilities and experience.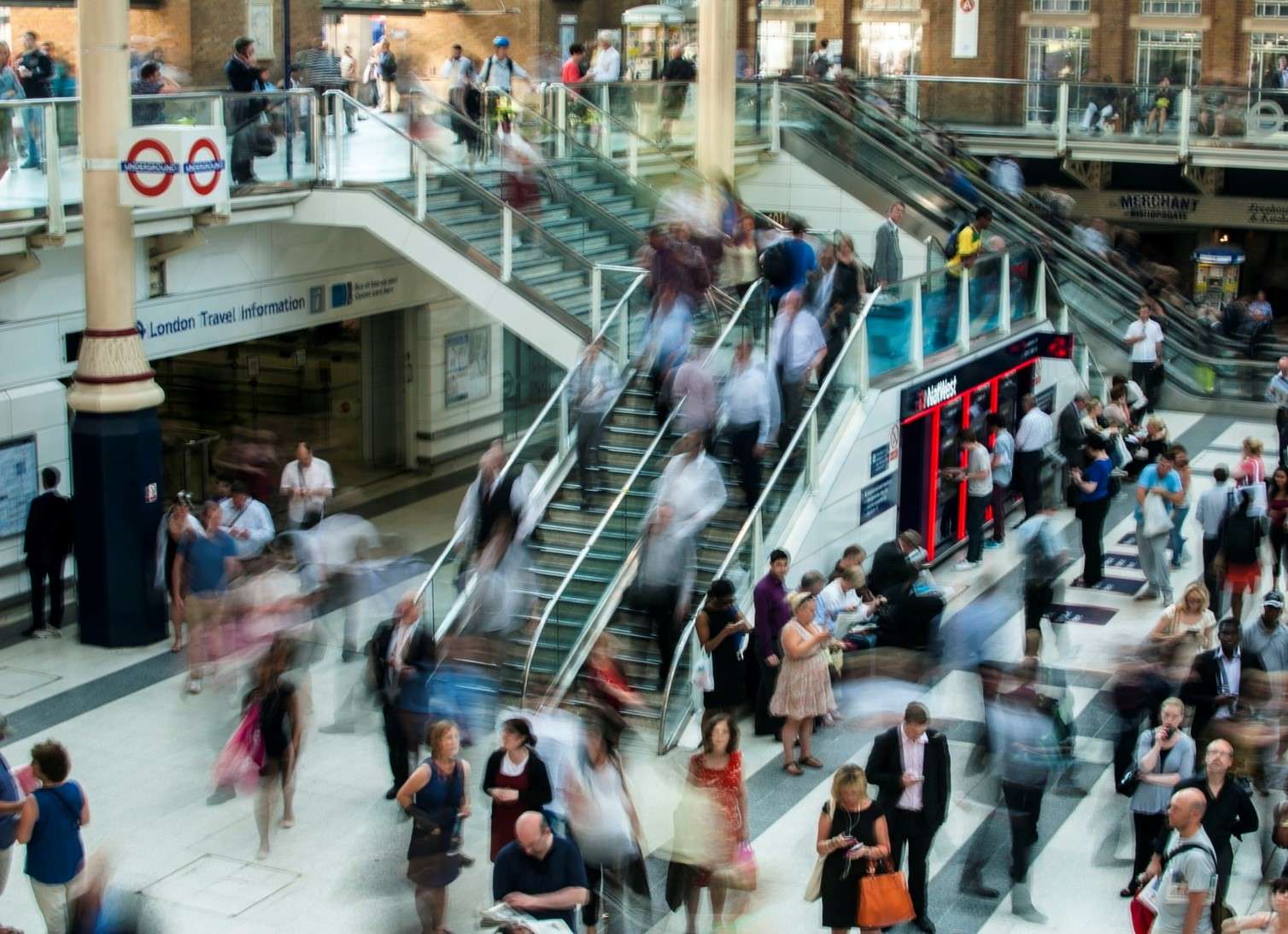 Affordable, scalable, and easily deployable
The Cat S61 Smartphone has not been designed with a pandemic in mind, nor as a reaction to the current situation but is based on the last 10 years of CAT continually improving their rugged mobile devices. The thermal imaging system is provided by FLIR Systems; the world's largest commercial company and market leader which specialises in the design and production of thermal imaging cameras, components and imaging sensors. As well as the integrated thermal camera from FLIR, which can locate heat sources up to 400 degrees centigrade, perhaps its most impressive capability is the ability to livestream thermal imaging data back to a control room or head office.
Thermal imaging camera is as straightforward to use as a regular smartphone camera. Simple instructions – no training
Handheld – ideal to discretely monitor a queue, public transport, taxis, security/door staff, mobile patrols and for other environments where a fixed location camera is not practical.
Tripod mounted – ideal for office reception desks and other controlled entrances.
4G LTE & Wi-Fi connectivity makes it simple to stream everything to a control room (allowing one security guard to manage multiple devices/entry points)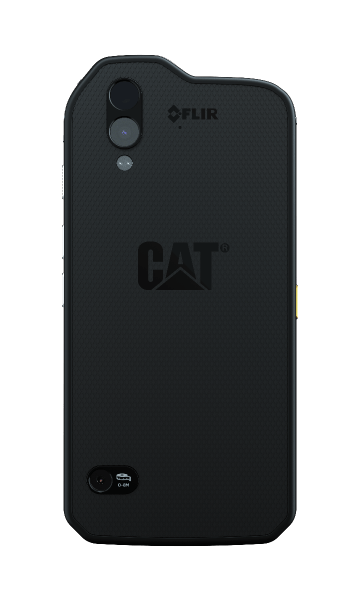 There's also a laser-assisted distance measuring tool that's included on the back of the device as well as an indoor air quality monitoring tool that measures humidity and ambient temperature as well as air quality. The results are displayed in an easily digestible traffic light format with red indicating dangerous levels of VOCs (Volatile Organic Compounds). The 4.5Ah battery is one of the largest we've seen on a rugged device in recent years and you can expect a whopping 35 hours of talk time and 37 days of standby time in peak conditions. It also recharges rapidly thanks to Quick Charge technology. On top of all this the S61 is ideal for outdoor use with auto wet-finger and glove support.
The design, connectivity and military grade, rugged credentials of the Cat S61 Smartphone offers unique versatility.
Mil-Spec 810G and IP68/IP69K certified. Withstands multiple 6 feet drops onto steel
Android OS and fully connected: 4G LTE ,Wi-Fi, Bluetooth
Proven product & technology – 650,000 devices already in use around the world today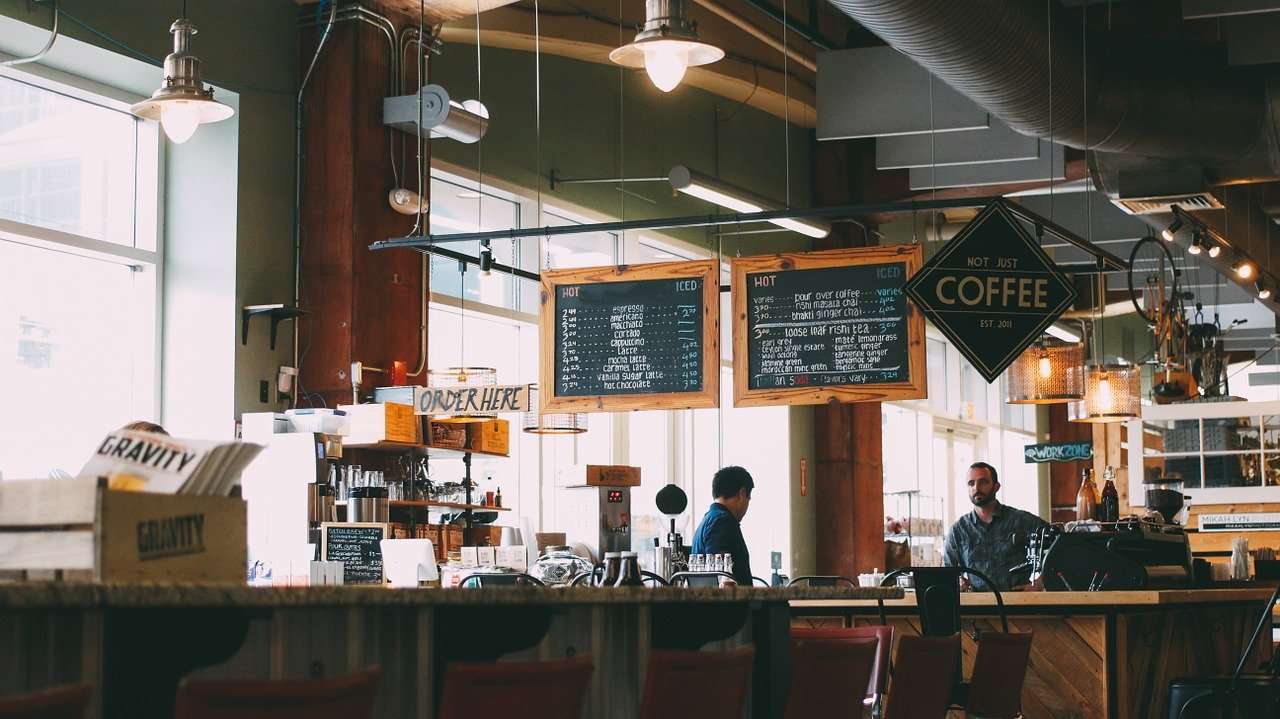 CAT Rugged Mobile Device background
Designed, engineered, and manufactured by the UK-based, market leading rugged device vendor, Bullitt Group.
6 World first's in rugged design where CAT have pushed design and engineering limits.
4 Years of Thermal Camera Smartphone experience from leading the market  with fully integrated FLIR thermal camera sensors.
In use today by 19 front line emergency services in 9 countries across EMEA, (before the COVID-19 situation).
All CAT devices have heightened hygiene capability from years of durability testing; this now offers unique strength and safety to customers.
Since COVID-19 there have been further deployments in mass transport, front line health care and industry due to CAT's hygiene and thermal offering.