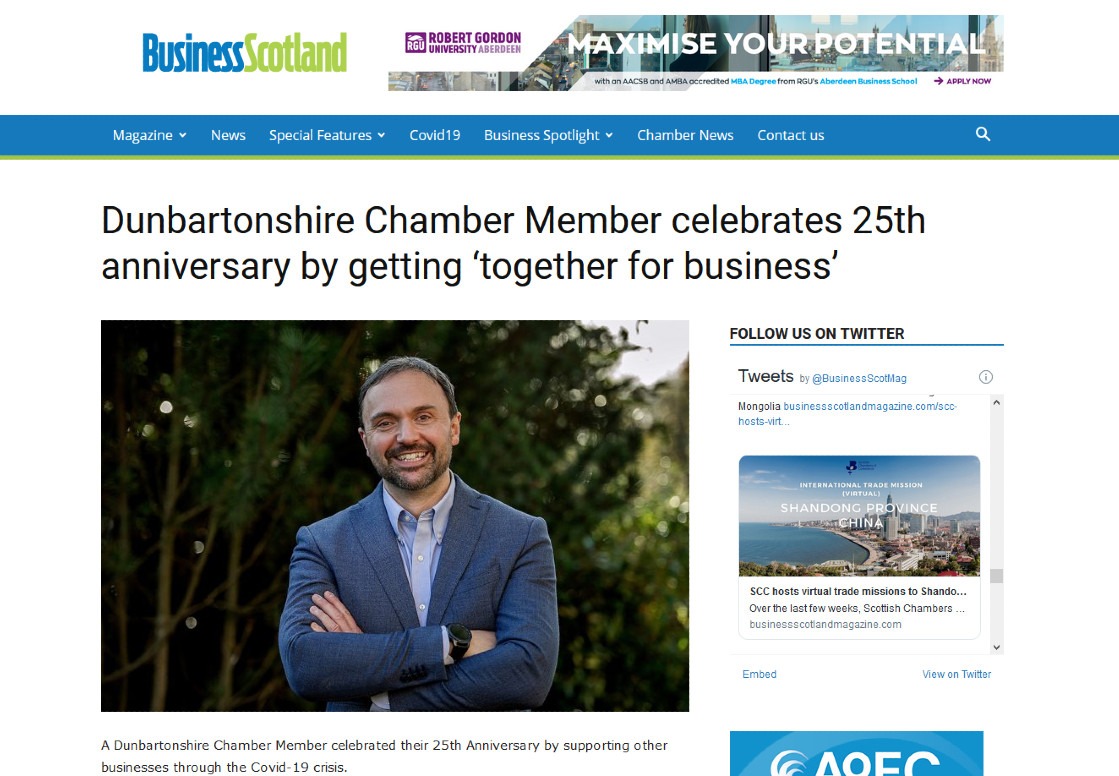 Columbus UK featured in Business Scotland Magazine
Columbus UK, a Dunbartonshire Chamber Member celebrated their 25th Anniversary by supporting other businesses through the Covid-19 crisis.
Columbus UK got behind the Dunbartonshire Chamber's "TogetherForBusiness" campaign that brought a host of businesses together to provide support and advice free of charge. Columbus UK, a Managed Service Provider, offered to help members and non-members alike who might be struggling with their IT and telecoms in their new home working environments. Jason George, Head of Business Development, and his team quickly became a frontline resource: "When lockdown arrived, we became the digital equivalent of a first-responder to help our customers migrate from offices, shops and warehouses to home working literally overnight. We had to ensure that customers had the right communications, technology and security services to work from home and continue operating with as little disruption as possible.
"Whilst we were incredibly busy ourselves, we still wanted to do what we could to support other businesses through a very difficult period. We helped numerous businesses with a wide variety of issues; from improving home broadband connections and providing mobile broadband solutions, solving laptop performance issues, setting up remote desktop services, guidance on using Microsoft 365 and Teams, as well as setting up reliable cloud back up services. Many businesses also struggled with legacy telephone systems and phone lines stuck in offices so we provided VoIP-based, phone systems with Smartphone and PC Apps that members can use anywhere."
Jason added, "We are delighted that our goodwill during the early stages of the pandemic has been viewed very positively and a number of Chamber members have since become Columbus customers. We've helped an engineering firm with new business-grade broadband, provided a more flexible phone system, an IT audit and IT services. We've helped an accounting firm migrate their web site to Azure web hosting and we now manage and maintain their web site for them. We've also helped a local property development company move and consolidate their IT services with Columbus and many more besides."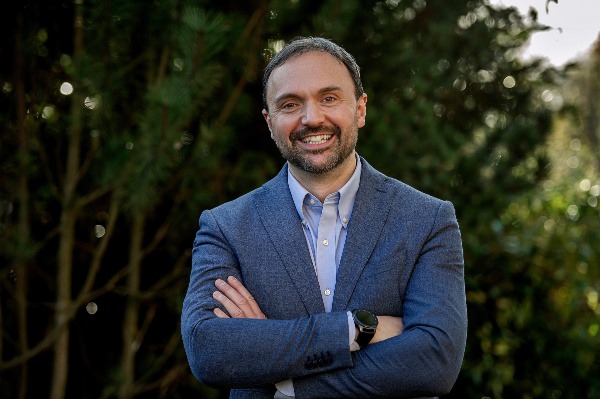 "The one consistent message throughout lockdown has been that technology is the ultimate enabler for all of our businesses. Now, more than ever, it drives our economy and without it, and the right support for it, this pandemic could have gone very differently for many organisations."
Beyond COVID-19
Jason is upbeat about the future and opportunities that lie ahead. Columbus UK has ambitious plans to grow its customer base for Business Communications, Broadband, IT and technology services in Scotland throughout 2021 and beyond, and do this in a sustainable and positive way that benefits everyone involved. Commenting on the past nine months, Jason said, "the one consistent message throughout the lockdown has been that technology is the ultimate enabler for all of our businesses. Now, more than ever, it drives our economy and without it, and the right support for it, this pandemic could have gone very differently for many organisations. The pandemic also highlighted what an incredible team we have and what can be achieved when a small team really pulls together, has a sense of purpose and pride in what they are doing and rises to a challenge none of us have ever seen before."
Columbus plans to expand its operational team and support Dunbartonshire Chamber's Building Bridges Skills Development Programme by using the Modern Apprenticeships and Kickstart schemes in preparation for a launch of new services tailored for a different way of working in 2021. Jason explains that, "when things do improve and restrictions decline, we expect that a lot of businesses will continue to offer home working combined with time in the traditional workplace and offices. Businesses will therefore require telecoms and IT solutions which provide the flexibility for both sets of circumstances, but most importantly offer increased reliability and security. To address this, we are strengthening our Managed Services portfolio with the addition of online IT Security Awareness Training, a managed Cyber Essentials Accreditation service, a Digital Vault and Password Manager and much more to ensure all businesses are better prepared wherever their employees may work in future."