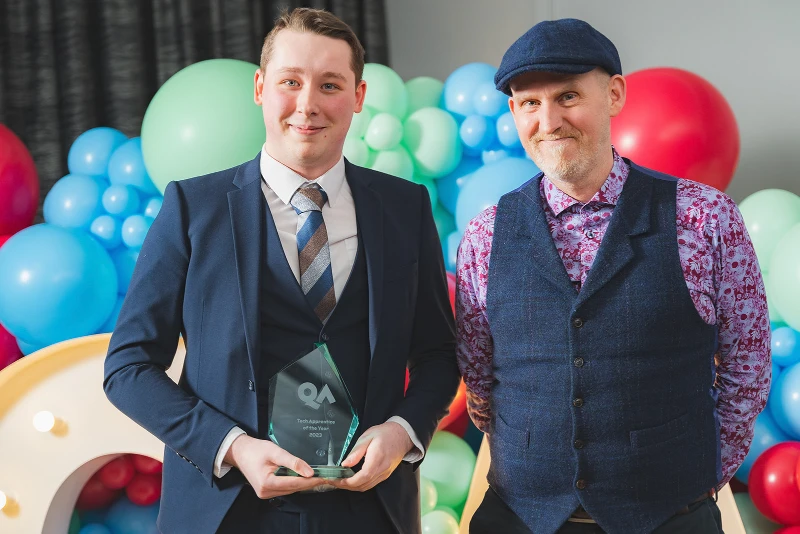 Investment in Apprenticeships at Columbus UK highlighted in national awards ceremony
We are delighted to announce that Cameron Stevenson at Columbus UK has won the QA Scottish Tech Apprentice of the Year Award for 2023! The awards ceremony took place at the Grand Central Hotel in Glasgow on Tuesday 7th March with over 140 attendees from businesses across Scotland. Cameron's award was presented by Microsoft's Director of Devolved Government, Steven Grier.
With increased workload during the lockdowns, Jason George and Paul Willingham decided to start an apprenticeship scheme within Columbus UK to help support their growing customer base. It wasn't without its challenges; supporting an 18 year old in his first job, whilst completing his modern apprenticeship, on a fully remote basis because of the lockdowns, meant they had to dig deep to support Cameron to help him settle in, feel fully supported and help him fulfil his potential.
Commenting on the evening, Jason George said, "I felt like a proud father when Cameron's name was announced as the winner and all the hard work had paid off. Cameron was our very first apprentice but he won't be the last. He's set a very high bar for anyone joining our team now, but Cam has been through it and I'm sure any new apprentice joining us will be in safe hands with me and Cam and the rest of the Columbus UK team nurturing and supporting young talent."
Congratulations to all the finalists from NatWest, Sabio and Commsworld in the Scottish Tech Apprentice category and thank you to Ashleigh Gallacher and Calum Harrison and all the team at QA Scotland for a brilliant evening.
Well done Cameron, we're all really proud of you.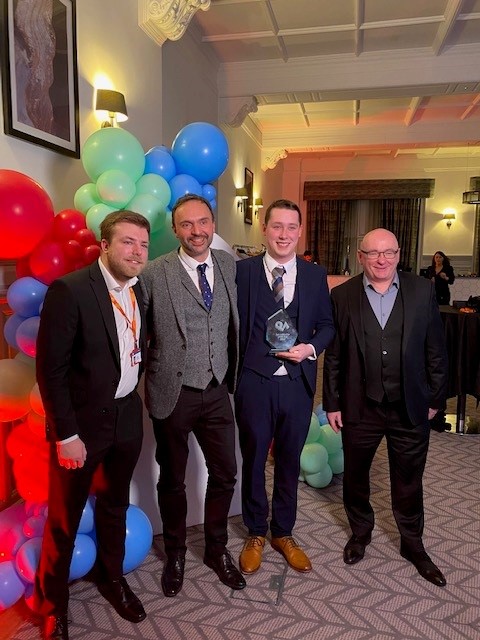 Cameron Stevenson (third from left) with Jason George from Columbus UK in the centre, accompanied by Calum Harrison and Billy Connolly from QA Scotland.

Get in touch if you would like to find out more
If you would like to find out more about how we support young talent within our business, contact us via the button below or call us on 0333 240 7755 or use live chat.