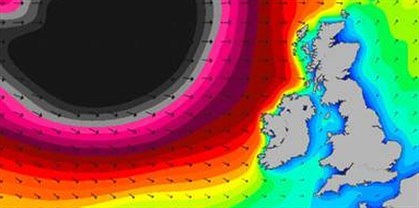 Is Your Business Ready to cope with Extreme Weather Events?
Whilst you could argue we haven't had much of a summer this year, there is a chill in the air during the evenings which marks the beginning of Autumn in the UK. Whilst the traditional November storms are still a few months off it is worthwhile checking that your business is properly prepared for whatever may come by checking that you can continue to operate effectively if a storm damages your office, knocks out power or snow disrupts travel for workers. You probably heard about what the British media dubbed a 'weather bomb', that battered the West coast of the UK during early to mid December 2014 causing severe gales, flooding, plummeting temperatures and in some parts of Northern England and Scotland, heavy snow. What would happen to your business if it is caught up in an extreme weather event? Could your business remain operational if your business premises are flooded, your phone lines are cut or employees cannot get to the office? Here's some useful, cost-effective tips and considerations for SME operational and disaster recovery planning.
Replace old, premise-based business phone systems and go hosted
A traditional, premise-based phone system and lines are tied to your office location. If your office is inaccessible for any reason, you cannot easily and quickly resite your equipment and lines unless you have replicated the setup somewhere else beforehand. Some businesses use recovery sites for this purpose where office space and communications are on standby continuously in the event of a primary location failure. This is expensive however and there are more cost-effective methods which can be implemented to recover from a site failure. With disaster recovery in mind, Columbus provides many of its customers with hosted business phone systems. With Hosted, there is no on-site equipment to worry about as the phone system functionality is managed by servers in mutiple, resilient data centres across the UK. Therefore it's easy to move the service to alternative locations and redirect call traffic to external sites, users and alternative telephone numbers using an intuitive, web-based portal, accessible from any Internet connected device with a browser. If the need arises, adopting a hosted business phone system with the right configuration will allow your business to run like clockwork without anyone having to be physically located at the office. With Hosted business phone systems your phone service and telephone numbering goes wherever you go, it's not tied to a single location or telephone exchange which is a big advantage to most businesses that need greater flexibility and reliability these days.
Consider using a Non-Geographic Business Telephone Number
The Columbus contact number is 0333 240 7755. We chose this number because we appreciate that a lot of customers call us from mobile phones and calls to 03 numbers are included in mobile inclusive minute packages including our own business mobile phones. More importantly an 03 number gives Columbus more freedom and flexibility compared to fixed line telephone numbers. In the event of a major incident that affects head office, we can redirect calls to alternative offices and mobile numbers according to our pre-defined Disaster Recovery plan so we never miss a call. As with our hosted business phone systems, all the functionality behind the 03 number is powered by servers that are hosted in mutiple, secure and reliable data centres located within the UK, which provides peace of mind through the continuity of service whatever the weather might throw at you!
Enable remote working for employees
If an employee is unable to get to work, what do they do? Have you considered Office 365 so that applications and documents can be securely and easily accessed wherever an employee is located and on any device? Similarly with hosted business phone systems, the functionality of the phone system can be extended to a remote worker rapidly using a softphone installed on a laptop and USB headset for example, giving the worker the ability to make, receive and transfer calls with no service interruption. Inbound calls can be treated as if an office-based team was handling them, and instead calls can be delivered intelligently to any number of remote workers so no call is ever missed.
Consider a 4G Broadband Backup service
If your broadband service is interrupted for any reason, how long can you survive without it? Internet is a business critical application which most businesses cannot do without for a very long time. Therefore widening the scope for local access options which are both cost-effective and do not depend on the local copper network in your area is key to addressing this fundamental disaster recovery issue. 4G Broadband provides a diverse path to the Internet, compared to a secondary ADSL connection for example that shares cables along the same route to the exchange from your premises and potentially shares the same equipment in the local telephone exchange.
With this in mind Columbus provides a number of back up options which you might not have considered before. For small office deployments, using a 4G SIM installed in a 'MiFi' type device; a wireless router that acts as a mobile WiFi hotspot will serve as an interim Internet connectivity solution until the primary broadband service is restored. For larger offices that need Internet distributed by structured cabling to the desktop, Columbus provides 4G LTE routers in conjunction with 4G SIM cards and fixed public IP addressing which can be used for SMTP mail servers for continuity of email during a primary broadband outage. So why risk downtime with staff unable to work efficiently?
Columbus offers affordable, reliable, business grade communications and technology solutions which includes Business Phone Systems, Business Mobile Phones, Broadband, SIP Trunks, and Office 365 to enable our customers to focus on running their business in the knowledge that critical communications, business data and systems are fully protected and professionally managed by Columbus. If you need advice, speak to Columbus on 0333 240 7755 or use the contact form.