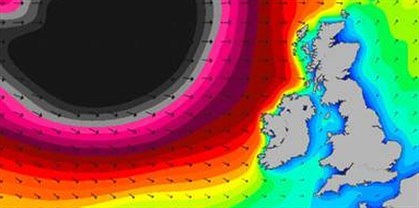 Does your business have an up-to-date Disaster Recovery Plan? With the latest business communications and technology solutions and a mobile-enabled workforce, businesses need not suffer during the annual UK winter storms.
UK storms impact
As the winter storm season begins this year, all businesses should be thoroughly prepared because none of us know with any meteorological precision what is likely to hit us before or after Christmas. Many businesses have been caught out due to a lack of adequate disaster recovery planning. The good news is this can be rectified by applying some common sense guidelines and adopting new, inexpensive business communications technology.
Be prepared
Every year severe disruption caused by extreme weather events is becoming increasingly common therefore it is prudent to plan accordingly. You don't have to be a large business or enterprise to afford reliable Disaster Recovery (DR) solutions for your telecoms or IT. It's worth noting at this point that when businesses begin the process of developing plans to deal with a major disruptive event they usually discover two terms that have different meanings; Business Continuity Planning (BCP) and Disaster Recovery Planning (DRP) and it is important to distinguish between them.
Business Continuity Planning versus Disaster Recovery Planning
Business continuity planning is best described as the processes and procedures that are carried out by an organisation to ensure that essential business functions continue to operate during and after a disaster. Typically business managers will ask themselves what needs to be done be restore operations if their business premises are inaccessible for any reason and from this they can develop and test a BCP that covers all the mission critical operations and business processes. As part of the business continuity planning process an organisation will normally develop a series of DRPs. These are technical plans developed for specific groups or departments within an organisation to allow them to recover a particular business function. Business managers would typically ask themselves what they would we do if they lost their phone or IT systems and develop specific DRPs for telecoms, IT and so on. A common misconception made by many organisations is that a single disaster recovery plan for IT is sufficient for their business. It is not. Organisations need to have a need to have a business continuity plan in place which covers critical business processes, key personnel, the recovery of essential systems and data, staff and supplier communications and incident management.
DR for telephony and business communications
This article focuses on Disaster Recovery for telephony and other business communications technology. DR solutions ensure your business and employees can continue to operate and maintain productivity levels in the event of a major incident. Every business, whatever their size should also have a plan in place to deal with incidents, however unlikely. Savvy companies are not only aware of the trouble adverse conditions can cause them, but are thoroughly prepared for it. Well prepared businesses will consider that staff may be unavailable with little or no notice and that the systems they rely on to operate and communicate can be put out of action through no fault of their own, or their supplier. These businesses have robust contingency plans which are regularly tested to ensure the continuity of business operations and communications each winter. Most notably, these are the organisations that are likely to win business, rather than lose it, when a storm affects the country.
So how do you protect your business?
Start with the DR plan. It's far better to work out what to do before an event rather than after it. Whilst a major disruptive event will focus minds on ensuring it does not happen again, the business may have already lost new business and lost revenue if phones were not answered or online orders not completed due to staff disruption. How much damage has also been done to the business' reputation if existing customers couldn't get through to complete transactions or get answers to queries? A good solution provider will go beyond providing the essential business Internet connectivity and business phone system. They will advise on how to improve business resilience during the solution design phase ensuring that if a site is hit with flooding for example, calls are redirected automatically and staff can access key applications from their home office whilst the customer is none the wiser to the alteration to the call plan or place of business.
Manage communications and staff during disruption.
The aforementioned storms led to the closure of businesses and many staff shortages across the North of England and Scottish Borders as staff could not reach their place of work due to road closures and the suspension of rail services or business premises were inaccessible due to flooding. Business communications and technology service providers offer many cost-effective and innovative means to mitigate the impact of major disruptive events and you could consider the following:
Get your message out quickly.
Staff can dial a dedicated inbound number to get the latest updates on any given situation at any time such as, "Please note that the Manchester office is temporarily closed due to local flooding. All staff are expected to work remotely today using Terminal Server and Horizon remote office telephone feature. The DR call plan has been implemented and all inbound calls have been automatically directed to remote hunt groups." The service is available 24×7 and management updates are posted in real time. Inbound numbers with announcement services are a very cost-effective communications solution that keeps large numbers of staff up to date at all times.
Move telephony services and PC applications to the cloud.
Everything we do is driven to provide the best possible customer experience. Clearly if our own calls went unanswered or went to voicemail without reply this could lead to dissatisfaction and lost business. To solve this organisations could adopt a hosted business phone system instead of an on-premise PBX. This means there is no on-site equipment which could be impacted by flooding or an electrical outage for example. Instead, your telephone number ranges and key phone system features are securely and reliably hosted in data centres in the UK. This approach to service delivery has some major benefits which will immediately improve your ability to cope with unforeseen events and also improve customer service levels with little capital investment required. Calls can be automatically redirected to remote offices, home workers and mobile phones to ensure no call is lost. Additionally you do not lose the ability to manage the calls when office staff need to work from home or relocate to another office as they can be easily monitored and reported in real time. And if you do need to use voicemail to manage higher than expected call volumes with fewer staff which are remotely based, then a hosted phone system gives you the ability to email any resulting messages and missed call alerts giving you better visibility of what's going on without having to dial in to a message retrieval service to check for messages. A hosted business phone system will help your organisation become a more agile workforce capable of operating anywhere, managing calls and using cloud technology such as Office 365 to access files and applications as if you were in the office.
Staff knowledge is key. Train them.
As long as you have got access to an Internet connection, today's business communications technologies mean that your applications, services and telephony can be accessible anywhere and on any device. Effective training is therefore very important. There is no point investing time and money in new systems if staff cannot use them or use them effectively. Make sure web portals and access details are shared appropriately and training sessions and webinar refreshers are arranged to keep your staff up to date on the latest service releases, operational best practices and so on.
Consider your service provider carefully.
If your business relies on Internet connectivity to run key business applications or telephony your business may be at risk, more so if the key applications or telephony use legacy ADSL Broadband for example. Likewise if the connectivity is not governed by a comprehensive service level agreement it may take longer than you expect to get you up and running again following a service outage. A good service provider will consider the systems that are key to your business, the impact of downtime and provide solution options that help your organisation manage effectively whatever the circumstances. Where connectivity it key to your business it is worthwhile considering two access types to improve your business uptime. For smaller businesses consider Fibre Broadband and a 4G broadband backup. For larger organisations consider an Ethernet connection with Fibre Broadband backup. Solutions such as inbound call management, or hosted business phone systems with enhanced features that support remote working can offer a simple and cost-effective means to ensure your business can run whatever the weather throws at you.
Columbus has the technology, experience and expertise to help you meet the challenges of continuing business operations throughout the UK winter. If you need advice or you would like to discuss your challenges why not speak to one of our friendly and experienced experts on 0333 240 7755. We would be delighted to help you.
get in touch.