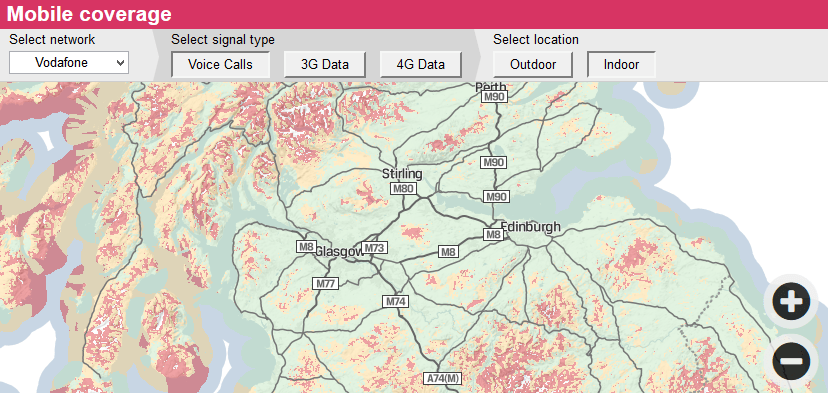 Ofcom launch new mobile coverage and fixed broadband checker
Ofcom has launched a brand new interactive tool that allows businesses and individuals to check the performance of broadband services in their area. The checker is simple to use and by inputting a postcode into the Ofcom Mobile and Broadband Checker, users can easily determine the availability of standard and superfast broadband as well as the mobile coverage and signal quality for voice calls, 3G and 4G data for both indoor and outdoor use.
When businesses consider opening new premises or moving to a new site altogether, the availability of good quality mobile and fixed broadband coverage is increasingly critical, so the checker provides a very valuable insight into geographic areas that may be of interest  and could help influence decision making processes as a result. The new checker  also means that any business looking to upgrade services can easily determine if faster services are available in their locale and how they compare on average.
Sharon White, Chief Executive of Ofcom, said: "This interactive map is part of our work to arm people and businesses with high-quality, accessible information, helping them make informed decisions about their communications services."
About the Mobile Checker
The checker uses signal level predictions provided by the four UK mobile network operators. Ofcom has tested actual coverage in various locations around the UK, and used the results to set the thresholds for voice calls used on the map. Ofcom will continue to conduct testing, work with the mobile operators and analyse consumer feedback with a view to improving the accuracy of the map.
About the Fixed Broadband Checker
The checker uses data provided by the UK's major Internet Service Providers in June 2015 to calculate average speeds. Average Standard Broadband speeds are calculated from broadband connections operated at that date by the major ISPs with line speeds of up to 30 Mbit/s. Average Superfast Broadband speeds are calculated from connections they operated at that date with line speeds between 30 and 300 Mbit/s. Superfast and Ultrafast Broadband availability is based on data from May 2015 and also includes data provided by five alternative network providers. The checker should not be regarded as providing a definitive view and Ofcom plan to update the data later in the year.
The Columbus View
Whilst Openreach have made significant strides of late to improve the information provided in relation to superfast broadband availability in the UK, so too has Ofcom with a very useful app that determines availability of mobile as well as fixed broadband. Columbus intends to use the data provided by Ofcom to corroborate our own checkers which will help us determine the best possible business mobile and business broadband solutions for our customers, wherever they are located. If you need advice regarding mobile coverage and suitability, fixed broadband speeds or anything else in relation to business connectivity for that matter why not give one of our friendly and informative solution experts a call and we will be happy to help you. Contact us or call us on 0333 240 7755.