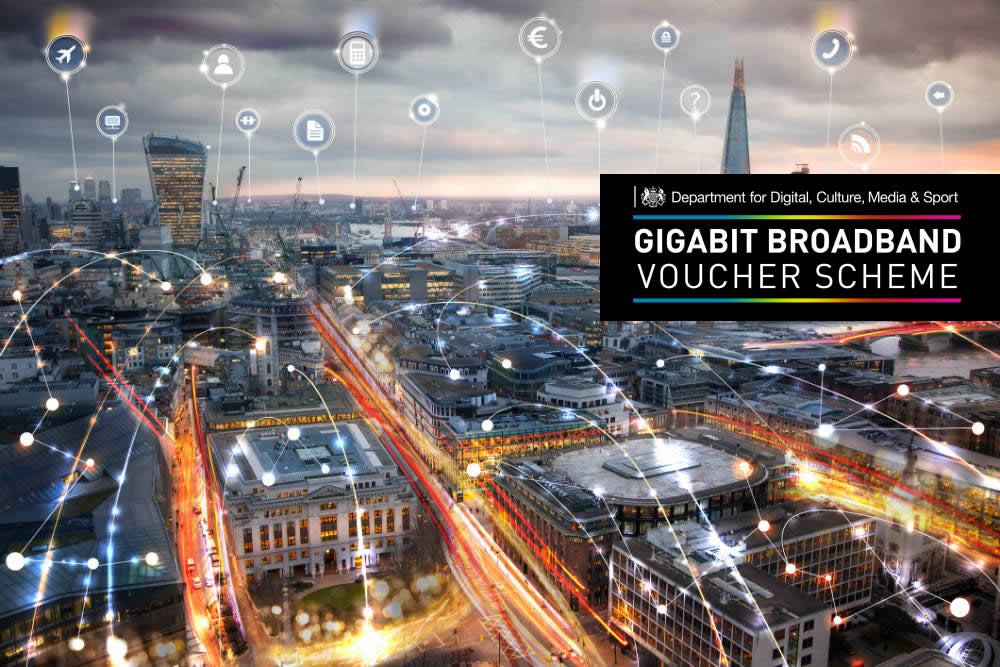 Get the very best Business Internet, speed and functionality at lower cost with Gigabit Vouchers from Columbus UK
Columbus UK are proud to have become registered suppliers of the UK government's Gigabit Voucher Scheme, giving small businesses a boost by improving their broadband speed with financial help to install a gigabit-capable connection. Read on to find out more about the scheme and the host of benefits it could bring your business.
What is the Gigabit Voucher Scheme?
As part of the UK government's commitment to increasing full-fibre coverage across Britain, earlier this year the £67m Gigabit Broadband Voucher Scheme was launched, enabling small businesses and their surrounding local communities the opportunity to apply for a grant of up to £2,500 towards the installation costs of a gigabit-capable connection.
What are the business benefits of a gigabit-capable connection?
Expanding your broadband capability offers your business a whole host of benefits and opportunities that you definitely don't want to be missing out on. Here are just a few:
Every business has to have a digital presence to survive in today's competitive market. Yet, the dependence on out of date equipment and a clunky, slow connection can lead to an unreliable service and disappointed customers. A gigabit-capable broadband connection ensures uninterrupted email and phone communication and the speedy and seamless processing of online and over-the-phone transactions.
A faster, more reliable connection opens the door to more advanced systems and software. Replace cumbersome old office-based servers with new cloud-based data storage and online business applications that are accessible, flexible and easy to maintain and offer the benefits of the very latest in cyber security.
A slow, unreliable broadband connection leads to a lot of time being wasted, whether it's waiting to download files, slow processing of transactions or losing work because of drops in internet function. Speed up your broadband access and cloud-based system and you enable a workforce to become increasingly productive, reducing the number of wasted work hours and offering a much more efficient service to the customer.
There is often a false perception that investing better broadband will cost the earth. In reality, cutting spend on the maintenance of old equipment and generating income by increasing staff productivity far outweigh the cost of a faster, more reliable connection and ultimately saves you a lot of money in the long run.
How does it work?
Much of the UK now has the benefit of super-fast broadband, achieved by fibre optic cabling to the local street cabinet which is then filtered to each premises by existing copper cabling. Full fibre connection means that this less capable copper cabling is replaced by fibre optic all the way to each address, providing an ultrafast connection to businesses and residents. The Gigabit Voucher Scheme pays businesses a grant of up to £2,500 towards an upgrade to a full-fibre connection, either individually or as part of a group project with neighbours.
Am I eligible?
The scheme for small to medium-sized enterprises in England, Scotland, Wales and Northern Ireland. Eligible businesses are those that employ fewer than 250 people and an annual turnover not exceeding €50 million, and/or an annual balance sheet total not exceeding €43 million. This includes sole traders.
How to apply
Interested in upgrading to a gigabit-capable connection and taking advantage of the Gigabit Voucher Scheme? The process couldn't be simpler. As a registered supplier, Columbus UK take on your grant application so all you need to do is get in touch with us and talk us through your requirements.
A full step-by-step guide to the process is available here https://gigabitvoucher.culture.gov.uk/home/how-do-vouchers-work/
Find out more about Columbus Business Internet services